This month's issue of Architectural Lighting celebrates the magazine's 30th Anniversary. All of us at Randy Burkett Lighting Design want to congratulate both Architectural Lighting and Editor-in-Chief Elizabeth Donoff on this great milestone. Our firm is grateful to have had a number of projects and staff featured over the years, and are honored to have contributed to the magazine's 30 Moments in Lighting.
"TM-30 IES Method for Evaluating Light-Source Color Rendition," by Randy Burkett for Architectural Lighting's 30th Anniversary Issue: 30 Moments in Lighting, Nov/Dec 2016
http://www.archlighting.com/technology/tm-30-ies-method-for-evaluating-light-source-color-rendition_o
An excerpt:
The much maligned Color Rendering Index (CRI) has proved an inadequate tool for professional designers fixed on a discerning consideration of light-source color rendering capabilities. Although useful, color fidelity as defined in the CRI system is, at its best, only a part of what is needed to adequately assess color rendering. At its worse, it is a misleading indicator of color rendering. The Illuminating Engineering Society's (IES) TM-30 color fidelity metric (Rf) is a significant improvement over CRI.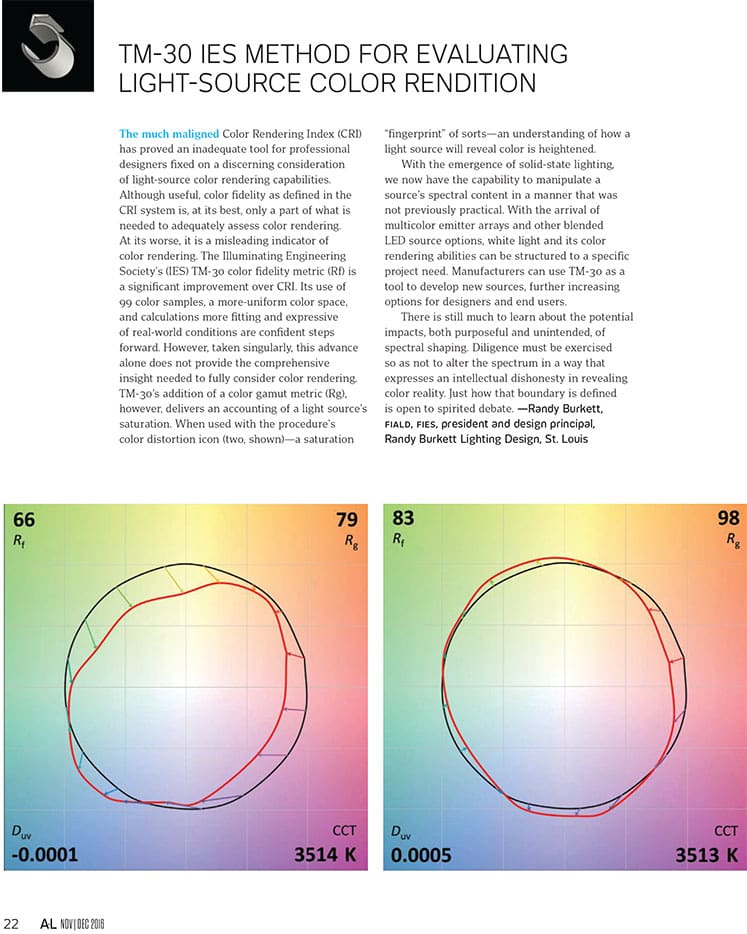 Randy served as a representative of the specification community on the Illuminating Engineering Society task force that developed TM-30 and has spoken on the subject at numerous events nationally. If you are interested in learning more about TM-30, please contact our office.